Puma and Staple's "East West Ivy" Collection is at the top of its class
PUMA and STAPLE are once again making waves in the world of sneaker and streetwear fashion with their latest collaboration – the "East West Ivy" collection. This exciting partnership delves into the rich tapestry of Asian American culture while drawing inspiration from the iconic collegiate style trends of the 1960s. In this exclusive collection, the fusion of two distinct movements results in a harmonious blend of traditional iconography, varsity aesthetics, and New York City streetwear flair.
A Journey Through Time: The 1960s Collegiate Influence
The 1960s were a pivotal era in fashion, driven by the preppy collegiate styles of coastal US universities. It was also a time when Asian American student communities began to shape their own unique identity. The "East West Ivy" collection takes us on a journey back to this significant period, effortlessly intertwining the charm of 60's Asian-American collegiate aesthetics with STAPLE's iconic New York City streetwear roots. The classic chenille badges, premium materials, and traditional Asian iconography showcased across the range, including caps, jackets, hoodies, and T-shirts, create a distinctive visual narrative.
From Classics to Contemporary: The Collection's Must-Have Pieces
The "East West Ivy" collection introduces a range of statement pieces that pay homage to both Asian American culture and classic collegiate style. The Varsity Jacket and V-Neck Crew feature the iconic letter-jacket aesthetic with "P" for PUMA and "S" for STAPLE, channeling Americana with a timeless touch. Complementing these classics, the Hoodie, Sweatpants, and Graphic Tees proudly display unique graphics and logos inspired by Asian American cultures, solidifying the collection's cultural significance.
Sneakerhead Delight: Footwear for the Connoisseurs
Sneaker enthusiasts are in for a treat with the PUMA x STAPLE "East West Ivy" collection. It introduces two captivating colorways for both the PUMA Suede and Slipstream models. These sneakers rework traditional elements with a fresh perspective, featuring zig-zag-shaped eye stays, debossed gold lettering, and yin-yang symbols on the tongue. Additionally, each sneaker is adorned with the unmistakable PUMA Jumping Cat hardware in gold, adding a touch of luxury to your sneaker rotation.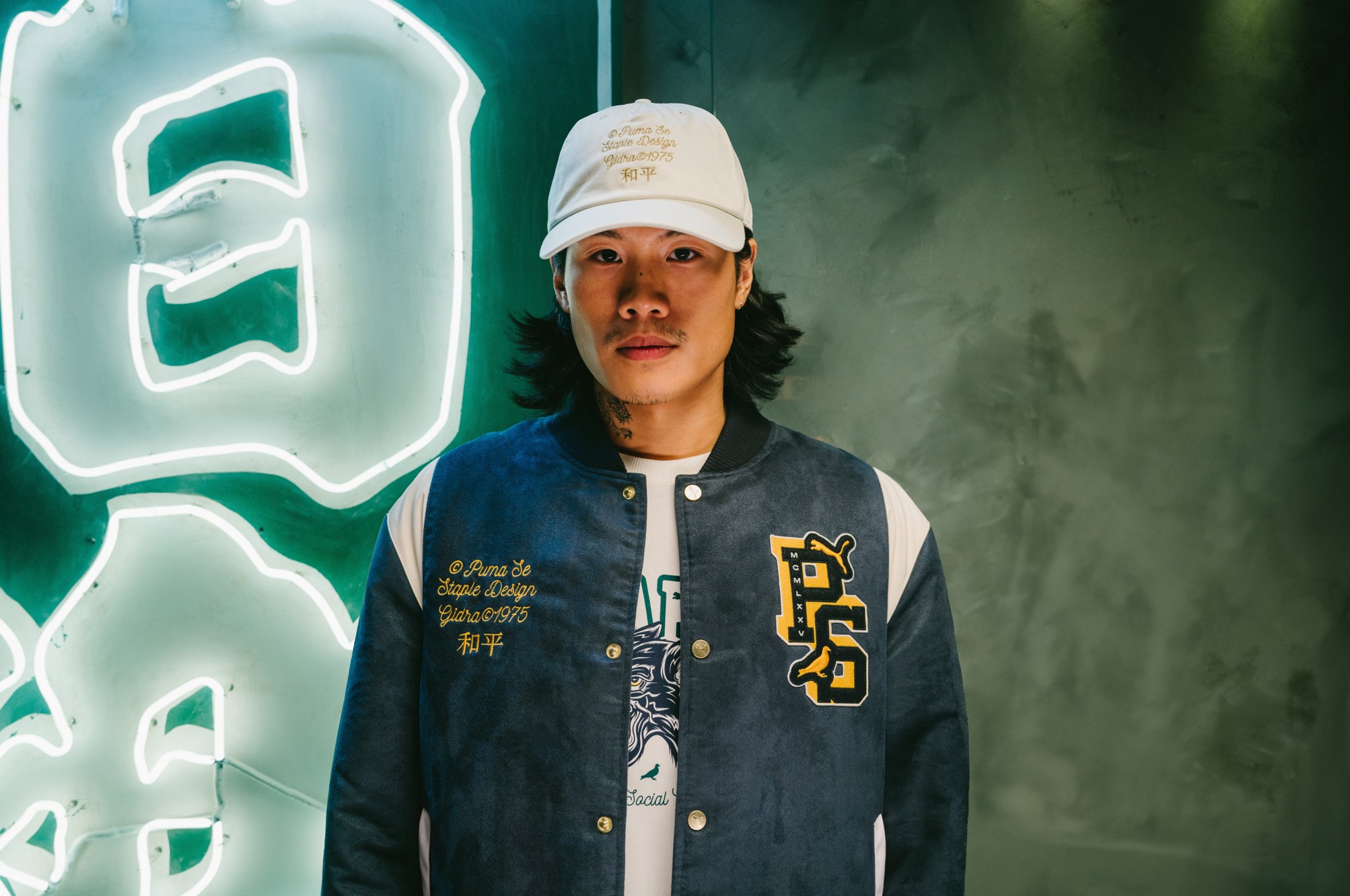 Accessorize in Style: The Perfect Finish
Finally, to complete the "East West Ivy" collection, PUMA and STAPLE offer a variety of accessories. The lecture hall-ready Duffle Bag is both functional and stylish, making it a must-have for those on the go. Additionally, the collection includes a Beanie and Cap to round out your streetwear ensemble, adding an extra layer of urban chic to your look.
The PUMA x STAPLE "East West Ivy" collection is set to hit stores on October 19th, available at PUMA.com, PUMA flagship stores, and select PUMA stockists. Sneakerheads and streetwear enthusiasts alike can also get their hands on this exclusive collection at staplepigeon.com from October 17th. 
Don't miss the chance to embrace a piece of Asian American culture and the timeless appeal of classic collegiate style with this remarkable collaboration.
Follow Sneakerize.gr On Instagram
Like Sneakerize.gr On Facebook
Follow Sneakerize.gr On Twitter
Puma and Staple's "East West Ivy" Collection is at the top of its class