Adidas and Humanrace Continue Their Collaboration with a New Perspective on the Samba
Adidas and Humanrace, in collaboration with Pharrell Williams, have unveiled two fresh colorways of the Humanrace Samba. That latest addition gives a new dimension to this iconic silhouette. This innovative offering not only pushes the boundaries of product quality but also embodies Humanrace's vision of merging design and functionality to create meticulously crafted products. As a result, the collaboration continues to resonate with fans as it marries Pharrell's creativity with Adidas's commitment to premium craftsmanship.
A Fusion of Design and Functionality
The Humanrace Samba stands as a testament to the Humanrace brand philosophy. It definitely epitomizes the creation of valuable products that place materials and craftsmanship at the forefront of their design. These new colorways, Cloud White/Pink and Ash Grey/Green continue to incorporate premium ECCO leather sourced from the Netherlands. What sets them apart is the meticulous zig-zag stitching, a striking contrast to the iconic three stripes, and a monochromatic suede toe cap that elegantly complements the upper construction. By embracing these details and materials, Humanrace endeavors to create not just shoes but wearable art that seamlessly blends fashion and function.
A Product for Today and Tomorrow
Edward Robinson, Humanrace Creative Director, offers insight into the ethos behind the newest Samba release. He states, "Humanrace's newest Samba was conceived through our sense of creating products that are authentic and speak to a lifestyle which is relatable, yet evaluated through attention to detail, and without compromise. This is twinned with the history of the Samba, creating a product for everyday use, that is for now and the future". This philosophy underscores the timeless appeal of the Samba, making it not just a shoe but a reflection of lifestyle and values. The product seeks to cater to the needs of the present while keeping an eye on the future. That ensures that it remains a relevant and stylish choice for years to come.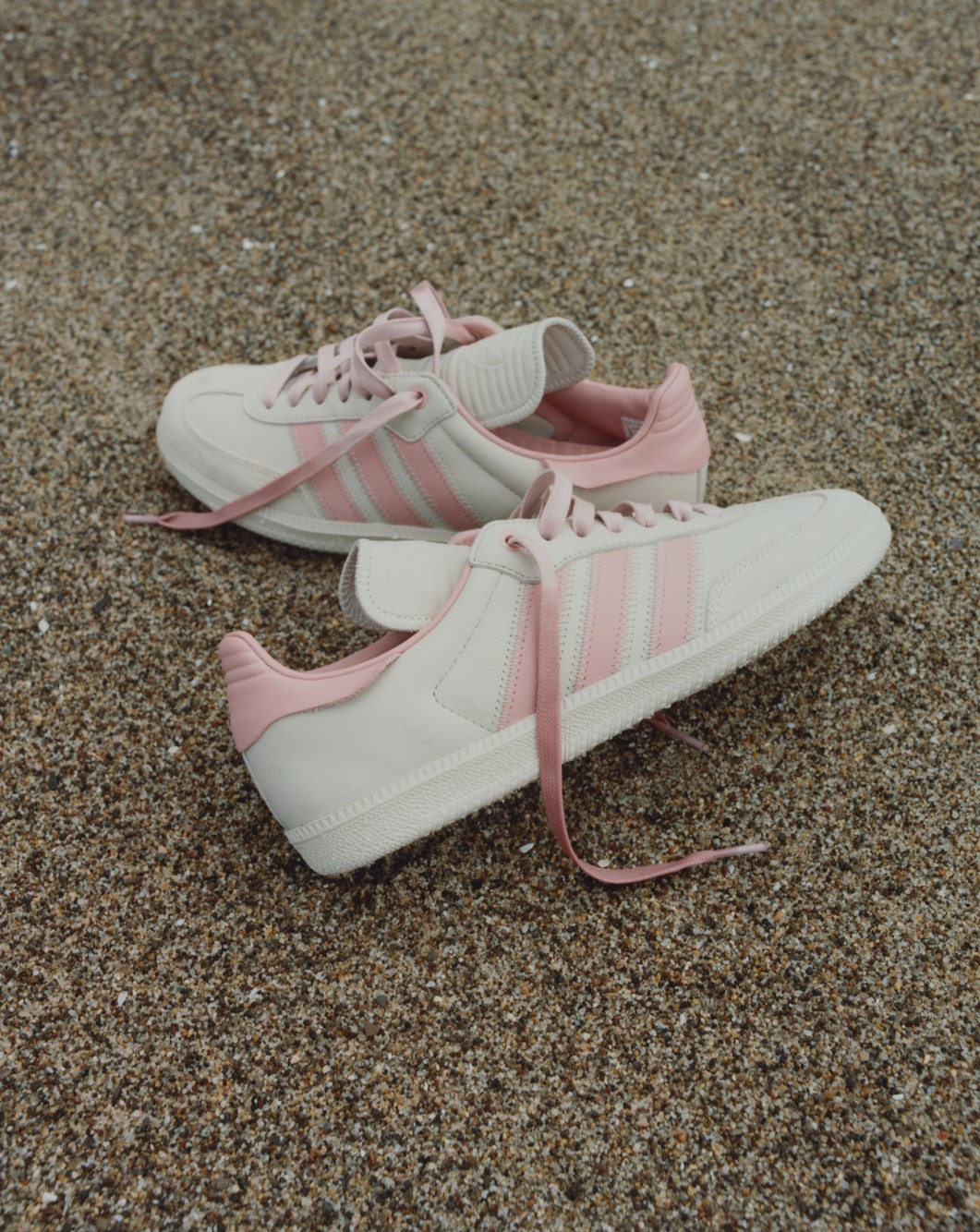 Capturing Versatility and Comfort
To emphasize their unique perspective on this product, Adidas and Humanrace enlisted the talented photographer Liam MacRae. Liam worked on an editorial campaign that encapsulates the essence of the new Samba colorways. MacRae's work beautifully captures the effortless blend of an atmospheric coastal backdrop with everyday wear. That showcases how the new Humanrace Samba seamlessly blends with different lifestyles and environments. This campaign not only highlights the versatility and comfort of the product but also underscores its appeal as a fashion statement.
The new Humanrace Sambas are set to be released in limited quantities and will be available globally on November 3rd. You can purchase them through the adidas Confirmed app, Humanrace.com, adidas.com, and select retailers. This collaboration between Adidas, Humanrace, and Pharrell Williams continues to redefine the boundaries of sneaker design, offering fans a unique blend of style, comfort, and craftsmanship in every step they take.
adidas Originals Humanrace Samba
Style Code: ID8712
Color: Orbit Green / Ash Grey / Ash Grey
Price: 180€
adidas Originals Humanrace Samba
Style Code: ID8712
Color: Orbit Green / Ash Grey / Ash Grey
Price: 180€
Follow Sneakerize.gr On Instagram
Like Sneakerize.gr On Facebook
Follow Sneakerize.gr On Twitter
Adidas and Humanrace Continue Their Collaboration with a New Perspective on the Samba