Nike's circular vision includes products that are made with the intention of being reused, remade, rediscovered, and loved again as something brand new. Extending the life of a product is a key component of that circular future. Giving a product a second life reduces its environmental impact on the planet. This insight is what led to Nike's latest innovation at retail: B.I.L.L., Bot Initiated Longevity Lab, debuting at Nike Town London.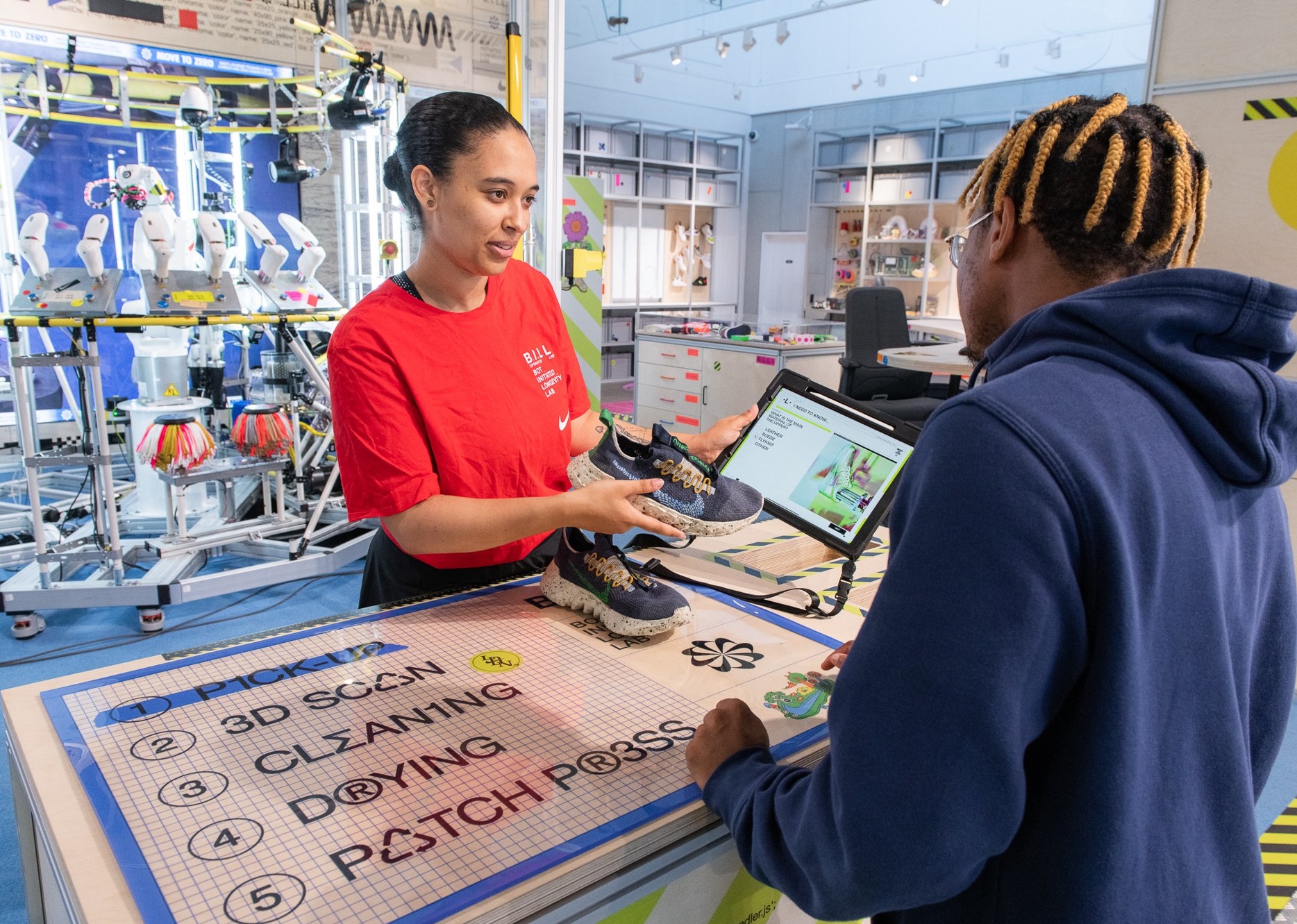 "The thing is, maintaining old product is deeply personal. People will go to great lengths to care for their favorite shoes. Repairing a product is a way to extend our memory with a product. We see B.I.L.L. as a tool for being able to do that." says Noah Murphy-Reinhertz, Sustainability Lead, Nike NXT. "Robots can do things that are tough to do by hand, but when we used robotics as part of a recycling technology, we still want the service to be personal." 


Using advanced robotics, old-school handcraft, water-based cleaning products, and recycled polyester patches, B.I.L.L. is currently capable of extending the life of Air Force 1s, Air Jordan 1s, Space Hippie 01s, and Nike Dunks. After loading a shoe into the robot, a three-dimensional digital model of the shoe is created, pinpointing detailed areas of cleaning on the upper, sidewalls, and outsole. Shoppers can then select patches to repair areas of wear and tear on the upper of their shoes. Once B.I.L.L. has finished with the shoes (all in all, B.I.L.L. takes about 45 minutes to process a pair of Air Force 1s) , Nike store athletes add new liners and laces made from recycled materials. During the time B.I.L.L. is available in Nike Town London, the service will be free of charge for shoppers.


B.I.L.L. will be available at Nike Town London throughout September. The experience is a pilot, says Murphy-Reinhertz, and London will provide valuable insights that will guide the future of sustainable services in Nike doors. As B.I.L.L. complements services like Nike Refurbished and Nike Recycling and Donation, Nike will continue experimenting with services that create a more personal bond between people and the products they love.