Air – Courting a legend
It's been a week since the long-awaited Air film premiered and whether is for the storytelling or the wrong numbers in the plot, the movie has gathered a lot of buzz around it. But was this offering enough for the Nike-saga enthusiasts or was it new-age-sneakerhead-oriented?
The movie
Air, directed by Ben Affleck and starring Matt Damon, Jason Bateman, and Ben Affleck himself. The film is a biographical sports drama that tells the true story of how Nike signed Michael Jordan, one of the greatest basketball players of all time, and created the iconic Air Jordan shoe line.

The movie follows Sonny Vaccaro (Damon), a Nike employee who has a vision of making a deal with Jordan (played by newcomer Damian Young), who is a rookie in the NBA and a fan of Adidas. Vaccaro believes that Jordan is a generational talent who can revolutionize the sport and the shoe industry, and he convinces his boss Rob Strasser (Bateman) and Nike co-founder Phil Knight (Affleck) to pursue him. However, they face many challenges and obstacles along the way, such as competing with other brands, negotiating with Jordan's agent David Falk (Messina) and family (Davis and Tennon), and dealing with internal conflicts within Nike.
Behind the scenes
We have to say that we were very impressed by this movie. It was not only entertaining and engaging but also informative and insightful. We learned (or were reminded) a lot about the history of Nike and Air Jordan, and how they changed the culture of basketball and fashion. The movie also showed the behind-the-scenes drama and politics of the business world, and how Sonny Vaccaro was a visionary who saw the potential of Jordan before anyone else.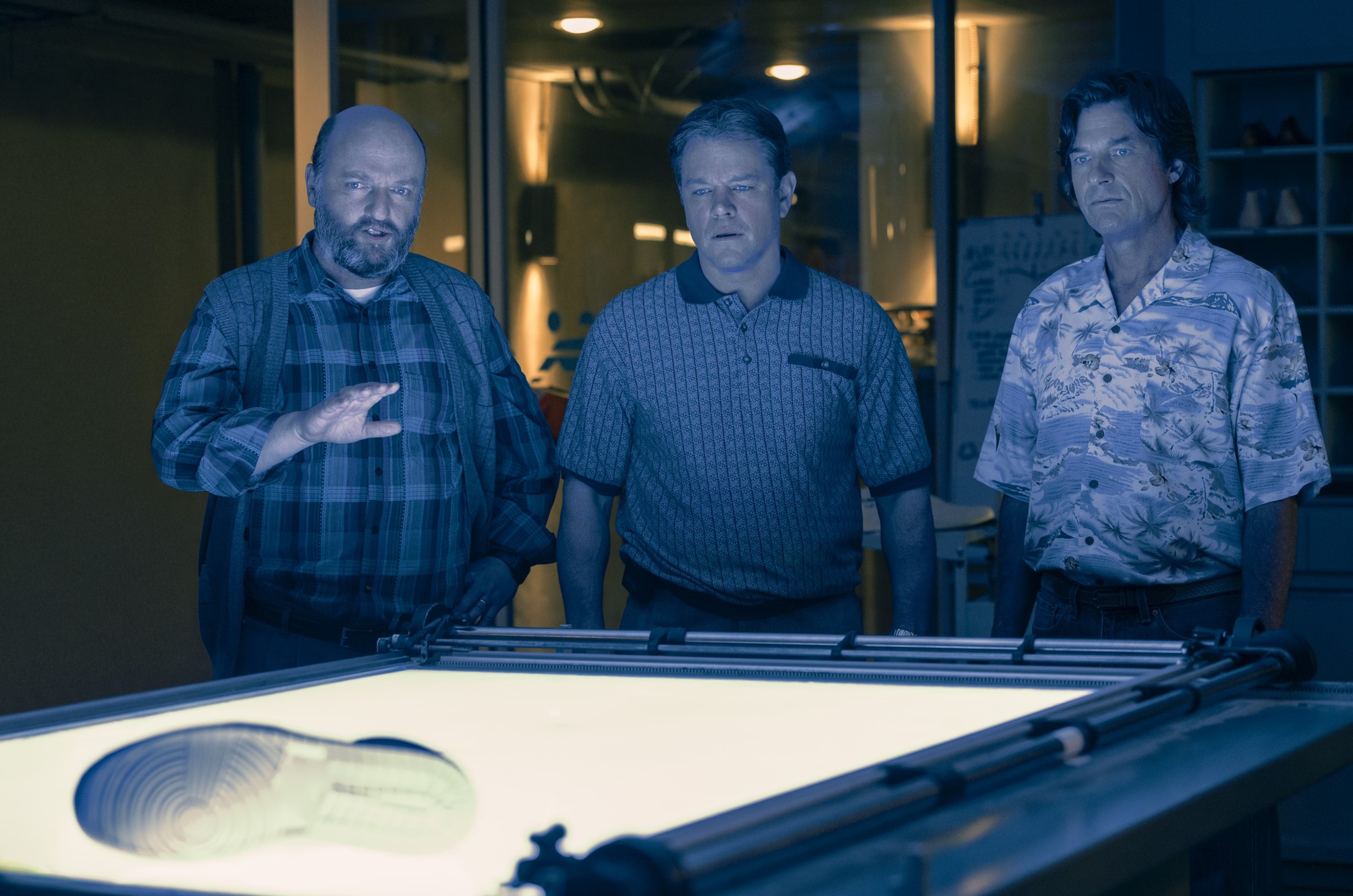 The performances were also excellent. Matt Damon was charismatic and convincing as Sonny Vaccaro, who was a complex and flawed character. He was ambitious and passionate, but also manipulative and reckless. He had a good heart but also made some questionable decisions. Jason Bateman was also great as Rob Strasser, who was Vaccaro's mentor and friend, but also his rival and adversary. He was supportive and loyal, but also pragmatic and cautious. He had a good sense of humor, but also a dark side. Ben Affleck was also good as Phil Knight, who was the leader and visionary of Nike, but also had to deal with the pressure and challenges of running a company. He was confident and charismatic, but also vulnerable and conflicted.
Air also had some amazing supporting actors, such as Chris Messina as David Falk, who was Jordan's agent and negotiator. He was smart and savvy, but also ruthless and greedy. He had a good relationship with Jordan but also exploited him for his own benefit. Viola Davis was also wonderful as Deloris Jordan, who was Michael's mother and protector. She was loving and supportive, but also strong-willed and assertive. She had a good influence on Michael but also challenged him to make his own choices.
The cameos
The movie also had some great cameo appearances by other actors playing famous people in the basketball world, such as Marlon Wayans as George Raveling, Chris Tucker as Howard White, Jay Mohr as John Fisher, Joel Gretsch as John O'Neill, Michael O'Neill as Joe Dean, Gustaf Skarsgård as Horst Dassler, Barbara Sukowa as Kathe Dassler, Matthew Maher as Peter Moore, Damian Delano as Young Michael Jordan (who looked so much like him), Asanté Deshon as 7-Eleven Clerk (who had a funny scene with Damon), Billy Smith as Bill (who had a touching scene with Affleck), Al Madrigal as Tim (who had a hilarious scene with Bateman), etc.
Robert Richardson is responsible for the stunning cinematography, capturing the look and feel of the 1980s era. The editing was done by William Goldenberg, who created a smooth and fast-paced narrative. Harry Gregson-Williams, composed an original score that matched the tone and mood of the movie.
Overall, Air is one of the best movies of 2023 so far. It is a fascinating and thrilling story of how Nike signed Michael Jordan and created Air Jordan. The movie appeals to both sports fans and non-sports fans alike. It is a movie that showcases the talent and vision of Ben Affleck as a director, Matt Damon as an actor, Alex Convery as a writer, and all the other cast and crew members involved in this project.


We highly recommend you to watch this movie if you haven't already. It is available on Amazon Prime Video after its theatrical release on April 5th. Let us know what you think of this movie in the comments below.
Follow Sneakerize.gr On Instagram
Like Sneakerize.gr On Facebook