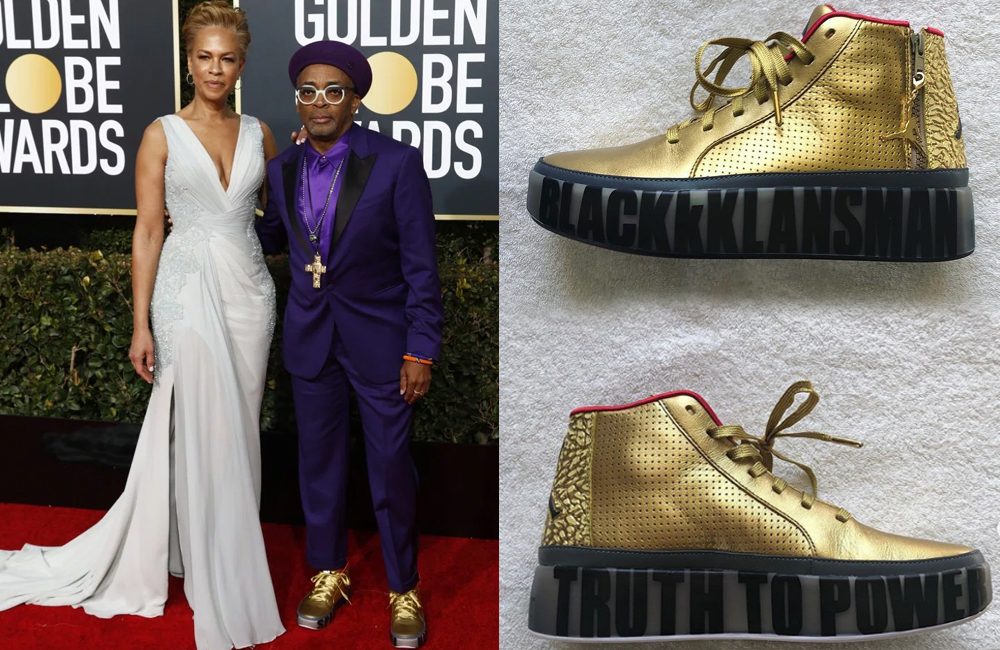 The Golden Globes gives Spike Lee the opportunity to respond to that old "who are you wearing?" question with "Jordan." The legendary director is connected enough to source and wear your dream J's, but he went and had custom BlacKkKlansmen kicks made instead. 
Lee posted the one-of-a-kind shoes to his Instagram. The gold sneakers came complete with red interiors to match the star-studded carpet. The soles of the shoes feature slogans on the outside like "truth to power," "speak on it," and "resist," as well as the name of his nominated movie.

The back of the shoe features a badge made out of Spike's 40 Acres and a Mule Filmworks logo. Do The Right Thing is written on the back of one of the sneakers. Spike said on Instagram that legendary Jordans' designer Tinker Hatfield crafted the shoes.


Of course, Spike has a long history with the Jordan brand. His Mars Blackmon character helped cement the idea of the sneakerhead and famously joined Jordan for early Nike commercials. Spike's character even received his own limited-edition Jordans, now one of the most sought-after pairs.
Lee is nominated for Best Director, and his movie is up for Best Drama. John David Washington and Adam Driver are up for Actor in a Drama, and Supporting Actor, respectively.  












Via Complex