DFNS was founded in the Netherlands back in 2019 with a simple goal in mind: to create the greatest and greenest lifestyle care products out there so that we can do what we love while loving the planet. Let's see how they made that work.
With the footwear and apparel industry responsible for a combined of over 8% of the global GHG emissions, and the fashion industry accountable for 20% of water waste, DFNS had to combine innovation, expertise, and enthusiasm to deliver a product line featuring two major key points that make a difference.



The first one was their innovative Airopack® technology: all the DFNS products are powered by air using Airopack® innovative technology that's safer for you and the planet. A traditional aerosol uses pressurized gas to propel its contents, releasing harmful solvents at the same time. Airopack® uses compressed air instead of volatile chemicals, so when you spray, all you get is the actual product and nothing more. Furthermore, all the Airopack® bottles are equipped with a Pressure Control Device – a mechanism that guarantees a consistent spray 'til the bitter end, you'll use a massive 98% of your product. Another great feature is the transparent Airopack® bottle that lets you see exactly how much you've got left.




The second key point is the product itself. DFNS uses formulas that are water-based, completely biodegradable without harming the environment, in packaging that is completely circular. Whether they are bio-based plastics that can be easily recycled, biodegradable foils, or recycled plastic bottles that can be recycled again after use— DFNS is striving for 0% waste and 100% functionality. Their aim is to reach that goal by 2023.
Continuing their global strategic partnerships, DFNS is now available in Greece through Cosmos Group. It was no surprise since the Cosmos Group has made a significant effort towards sustainability through "The Green Capsule Project" and more recently with the launch of their first Sustainable Sneaker10 store in Chalandri.
We are very proud to be launching in Greece with Sneaker10 and the Cosmos Group. We are on our way to be the greenest and greatest lifestyle care brand, through our VOC-Free Air-Powered device, our water-based, solvent-free, and biodegradable solutions. We know the importance of street culture in Greece, through the influence of Basketball for example and we hope to inspire positive change and sustainable behavior.

Jean-Francois Maille , Head of Marketing, DFNS
And when they say sustainable, they do mean it. In addition to their product innovation and packaging, DFNS is choosing the suppliers and manufacturers accordingly. The Footwear Refresher, Footwear Cleaner and Cleaning Wipes are produced in a Cradle to Cradle Gold certified factory – one of only a handful in the world. Footwear Protector is made in a factory with an NSF certification, which is a food-grade safety certification. Their suppliers also continually strive to reduce water usage, waste and their CO2 impact. The Apparel Launder and Denim Launder are manufactured in a facility that abides by the AISE charter, a voluntary EU initiative that promotes and facilitates a common industry approach to safety and sustainability.
Let's have a look on the DFNS product line :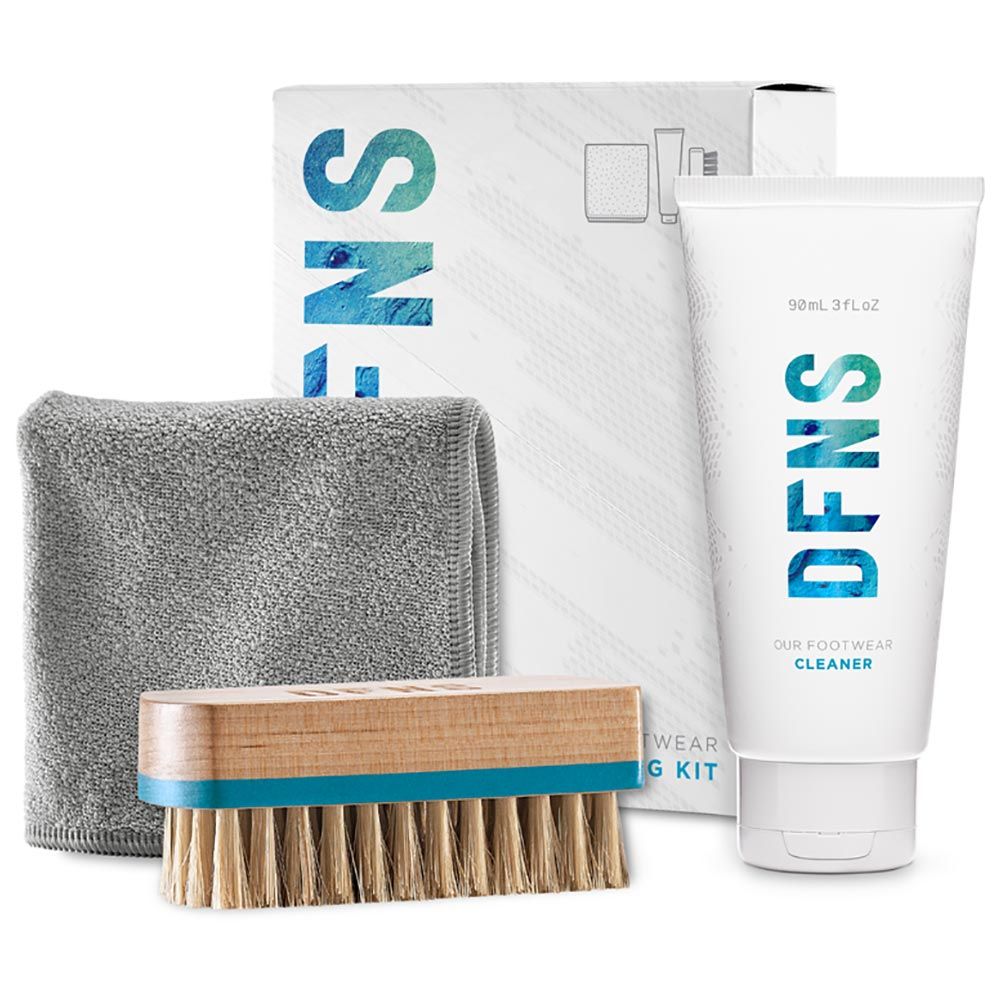 DFNS Footwear Cleaning Kit
Everything you need to get your kicks as clean as the day they dropped. DFNS Cleaning Kit contains DFNS Footwear Clean, the Premium Cleaning Brush, and a soft yet sturdy microfiber cloth. The gentle yet effective shoe cleaner is water-based, non-toxic, and 100% biodegradable. The tube it comes in is made of renewable plastic produced from sugar cane and is petroleum-free and recyclable.
Water-based
Biodegradable
Non-toxic
Shop the DFNS Footwear Cleaning Kit at Sneaker10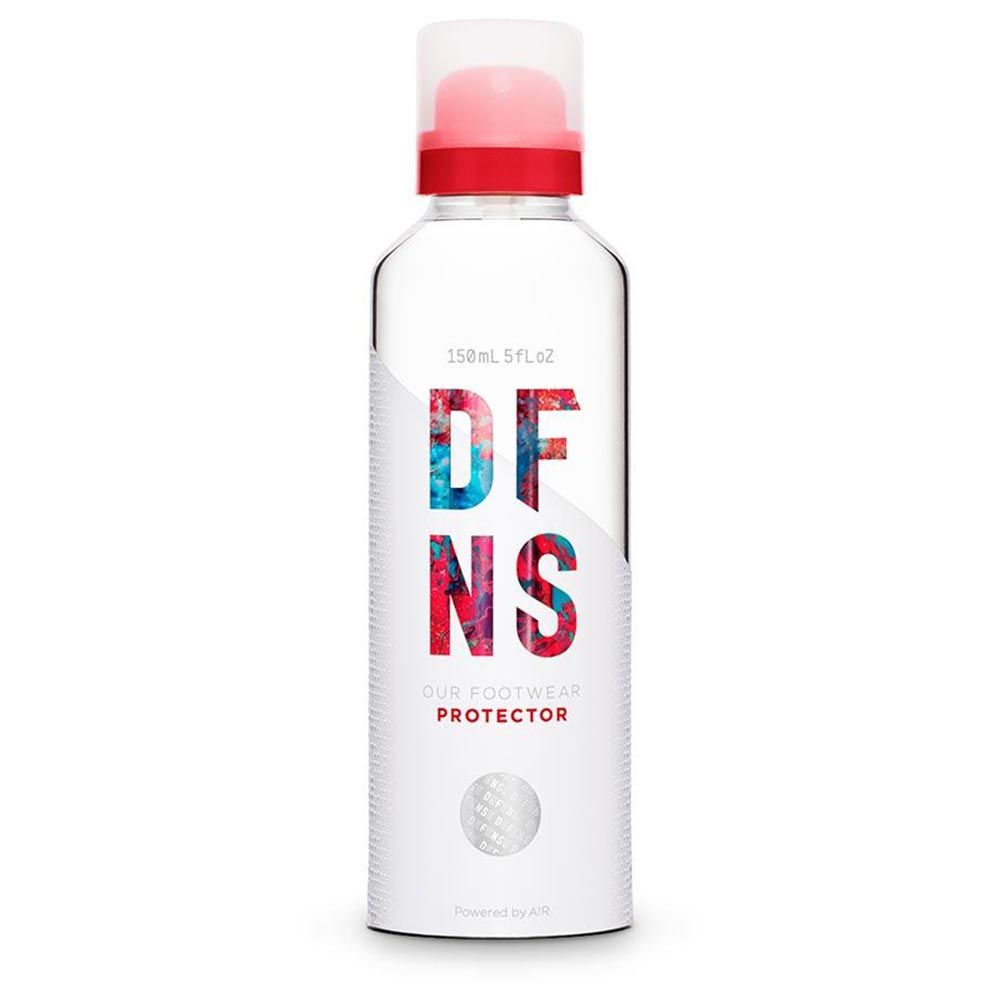 DFNS Footwear Protector
DFNS Footwear Protector is the eco-friendly answer to water-tight sneakers. Its innovative formula is water-based, biodegradable and virtually solvent-free, making it safer for you, your kicks and the planet. It's even safe to spray indoors.
Water-based
Biodegradable
Safe to spray indoors
Watertight yet breathable
150ML Airopack = 525ML Aerosol
GreenTag verified VOC Free
Shop the DFNS Footwear Protector at Sneaker10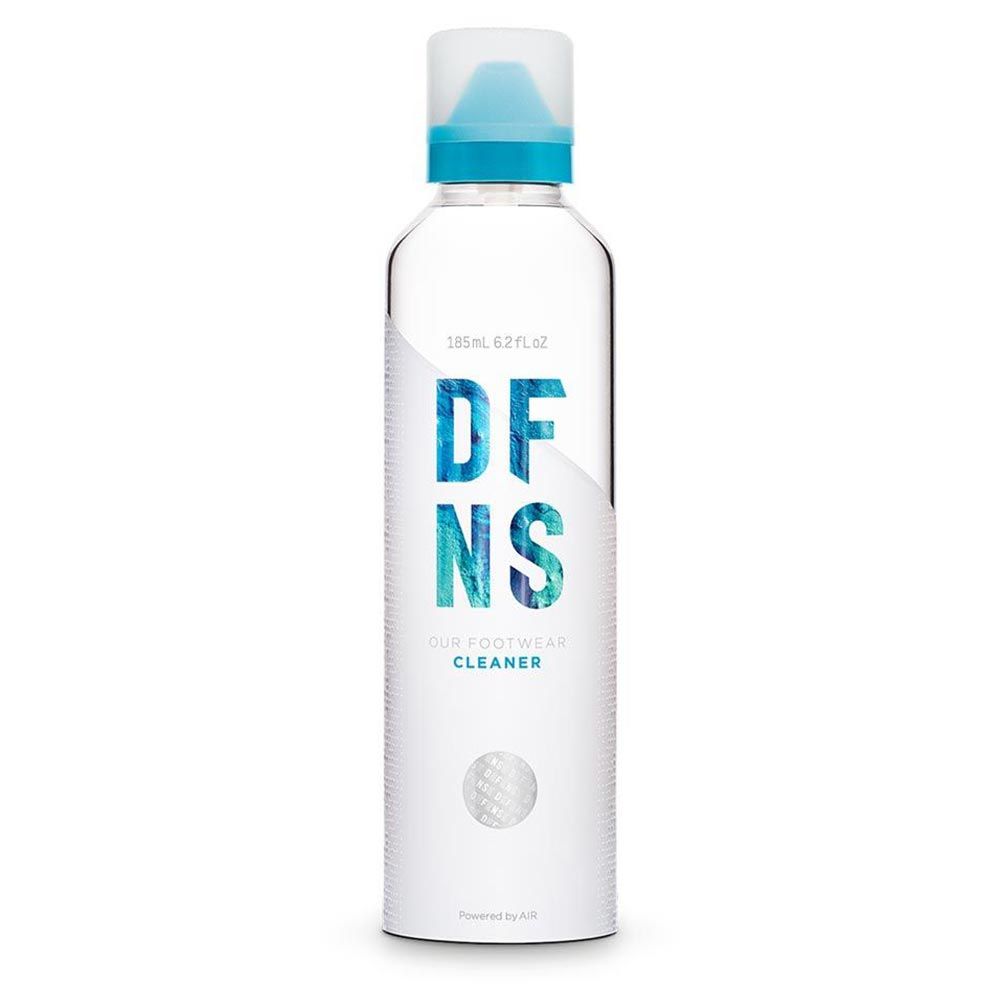 DFNS Footwear Cleaner Gel
The Footwear Cleaner uses surface activation to access and release dirt from the finest fibers, without harming the shoe's material or its water-repellent coating.
Water-based
Biodegradable
Non-toxic
Shop the DFNS Footwear Cleaner Gel at Sneaker10


DFNS Footwear Refresher
Say goodbye to smelly sneakers! DFNS Footwear Refresher is a water-based, biodegradable spray that eliminates odor molecules, giving you fresh as new shoes in 24 hours. Each bottle contains a special formula with billions of active probiotics that work together as microscopic superheroes to keep your kicks fresh by starving out the stink.
Water-based
Biodegradable
Non-toxic
Uses prebiotics
150ML Airopack = 525ML Aerosol
GreenTag verified VOC Free
Shop the DFNS Footwear Refresher at Sneaker10


DFNS Apparel Laundrer
What if you could do less laundry and still feel fresh? Now, you can. DFNS Apparel Launder refreshes reshape and de-wrinkles your clothes in just a few easy steps. It's water-based and free of fluorocarbons which makes it safe for you, your clothes, and the environment. And it means you do less laundry—saving time, money, and energy in the long run.
Water-based
Biodegradable
Free of fluorocarbons
Neutralizes odor
GreenTag verified VOC Free
Shop the DFNS Apparel Laundrer at Sneaker10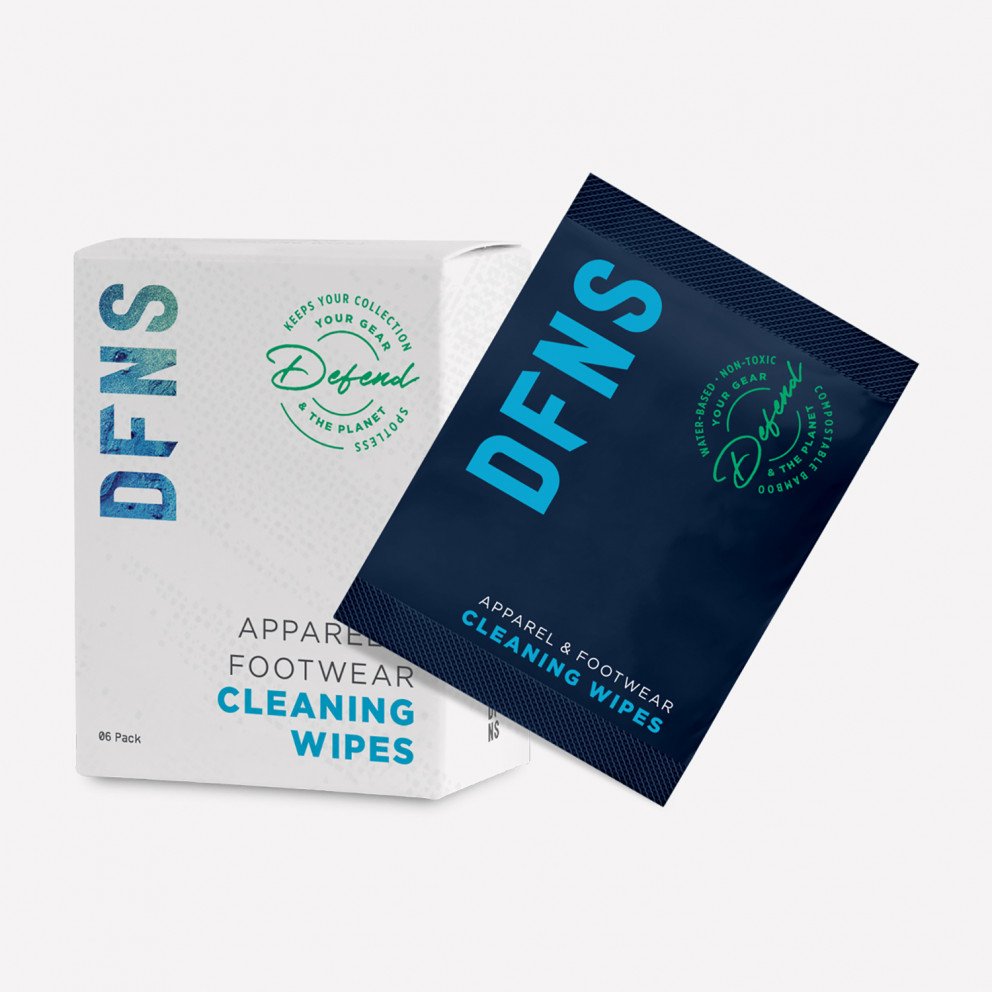 DFNS Cleaning Wipes (6pack)
With DFNS Apparel & Footwear Cleaning Wipes you don't have to let micro messes slow you down, at home or on-the-go. The wipes are non-toxic, biodegradable and made from bamboo—a wildly sustainable plant that grows up to 60cm a day and requires little to no irrigation. Once used, they can be thrown straight into the compost. Their packaging—a renewable, bio-based plastic, is petroleum-free, carbon negative and 100% recyclable.
100% Biodegradable
Non-toxic
Compostable
Made from bamboo
Shop the DFNS Cleaning Wipes at Sneaker10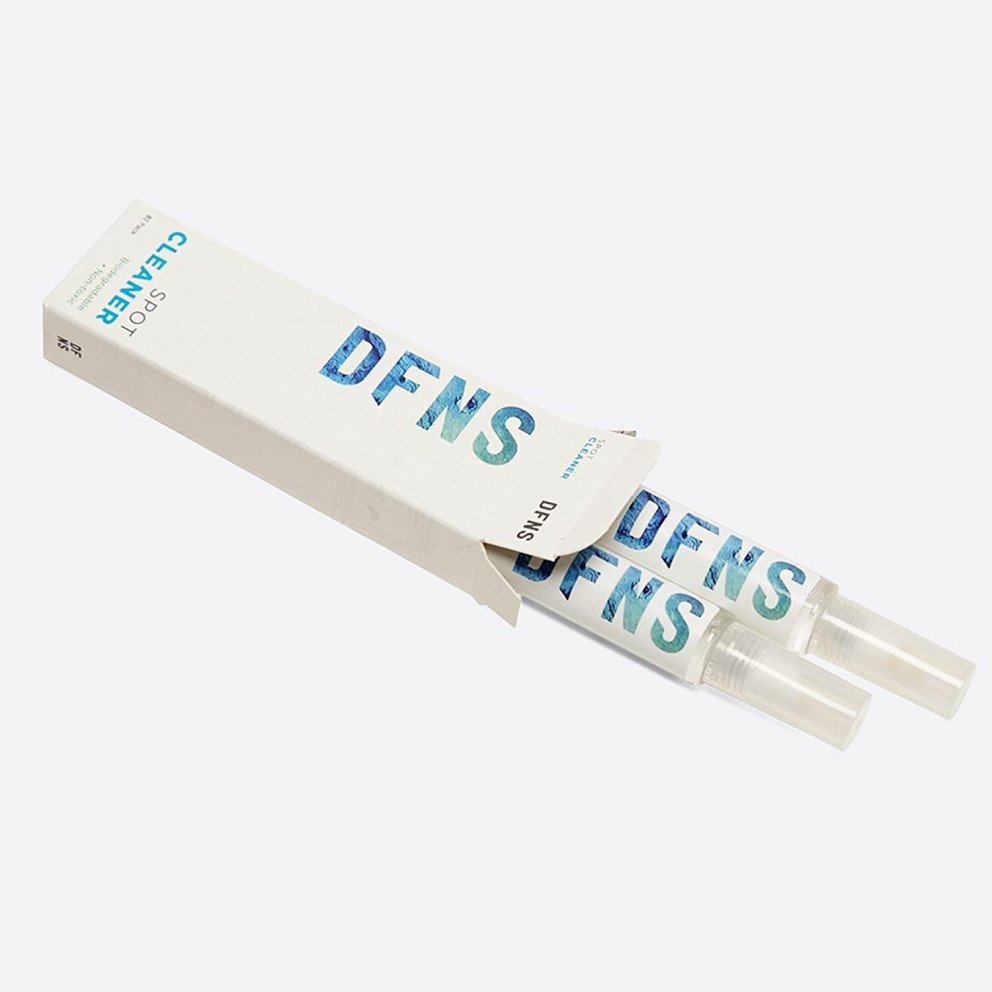 DFNS Cleaning Pens
Set of two cleaning pens to quickly remove stains from your shoes. With a biodegradable base and water, the pens are ideal to have with you always and everywhere.
Shop the DFNS Cleaning Pens at Sneaker10


Learn more about DFNS here .
Like DFNS on Facebook
Follow DFNS on Instagram
For details on DFNS product, visit their Youtube Channel