How can you tell if the sneakers you are buying are real or not? Here we have six tips on how to spot fake sneakers and avoid getting scammed.
Fake sneakers are a huge problem in the fashion industry, especially for collectors and enthusiasts who want to own authentic pairs of shoes. Whether you are shopping online or in person, these tips will help you identify the signs of counterfeit products and protect your money and reputation.
1. The Style
You probably know the main style or series of every brand, but that doesn't mean that you keep track of every style variation of it. Strange colorways, cheap materials, and collaborations that never really existed are a few things that could raise a red flag. Who can forget the women's Air Jordan High Heels, the Supreme x Nike Air Max 270, or the Off-White x Nike Huarache? One way to check is through the style code (should be matching the box label-read below, tip #4). Use it on StockX for example to look up info regarding the release, colorway etc. Notice though that sometimes a fake can even have this one right! So you should consider that more of another layer of precaution than a go/no-go decision maker.
You should always check a little deeper, whether it's with the official site of each brand or certified channels.
2. The Seller
There are two parts to this. The first one has to do with online sellers. With reselling growing exponentially, it's easy to lose focus. Ask for product and box photos, receipts, and tags that came with the product. Furthermore, you could do a background check for the seller in a community group or page, or check his ranking and user/customer reviews (eBay). If it is a website, look for their contact details, like business telephone and business address. Check their reviews on Google. Try to get in touch with the customer service. Look for their policy & terms pages and read them carefully. If you are having difficulties finding some of the above, just leave.
The second part is a bit more difficult because it has to do with brick-and-mortar shops. For example, the Supreme "Italia" shops in Italy and Spain tricked a lot of people into thinking that they got the Supreme brand from New York. Even in Greece, we saw reputable retailers stocking fake Supreme items. Again, do your research, learn the product very well, and try to find authorized retailers.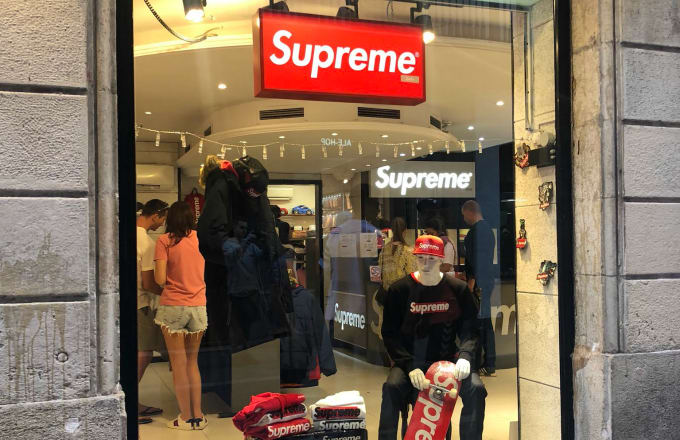 3. The Price
Another thing that might raise some red flags is the price. Sure, it sounds sweet when you find a deadstock Yeezy 350 Turtle Dove under 150€, but we all know that wasn't the deal even when the shoe was released. With profit margins so low for the retailers, it's unlikely you'll ever get such a bargain from them or even with a reseller.
4. Full-Size Run
When it comes to sneakerheads and releases it's all about getting it first. And with all that L's flying around, you know it's highly unlikely for a site to carry a full-size run even months after the official release of sneakers. Bumping into sites that claim to have every size on Off-White x Nike Prestos it's very common during your search, but stay away from them.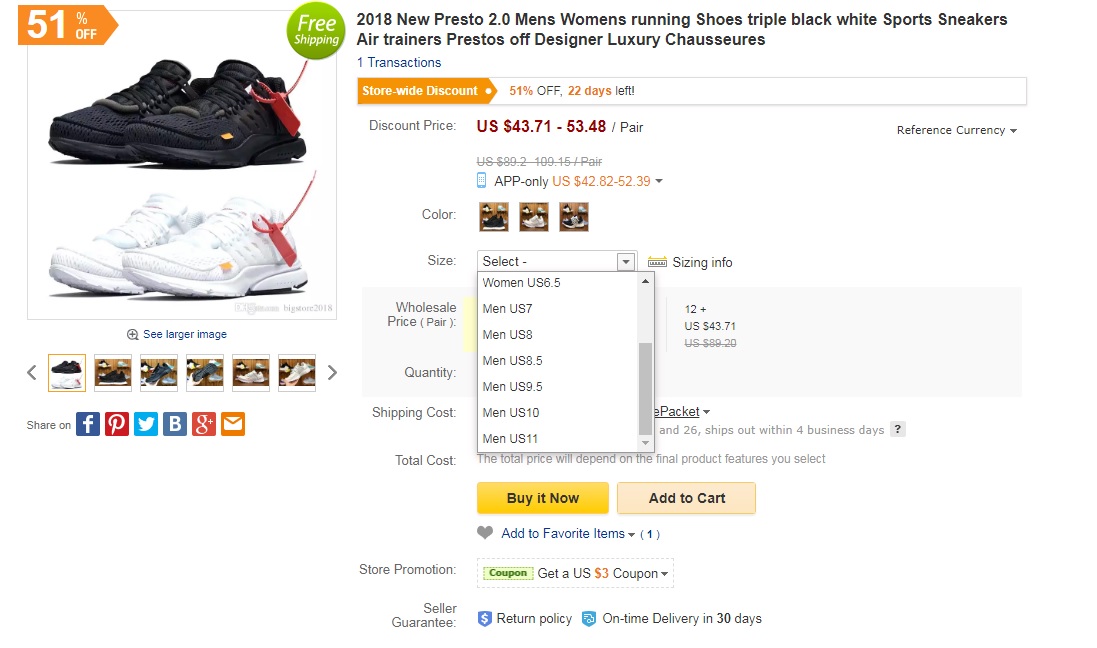 5. The Box
Now that's a tricky part, cause you have to physically be able to check the box. If you can get your hands on it, then look for anything that could look way off. The style code label should match the ones on the shoes. The font used on the label should look right, without unusual spacing or weird fonts. Even the quality of the carton box and the print on it should not feel "light" and cheap. In many cases, brands use watermarks on specific sides of the box that are bold and clear. Blurry stickers or watermarks should keep you away. Also, the pair might not "fit" correctly in the box.
6. Trust your instinct!
They say that most times when something feels wrong, it is. That's the deal here too. Inspect every inch of the pair. Check for poor stitching, wrong laces, wrong colors or "cheap" materials, cracks, and wrinkles. If the upper is mesh, try to see how "tight" the weave is. If there are any typeS of visible air units press to see how it feels. Check the insole for poor prints on them or weird glue marks. Even give them a try. But if you get your hands on a pair that doesn't feel right, leave it. 
With that being said, following some or even all the tips above, can't guarantee you get a real pair, but you've got some good chances of avoiding a lot of fake ones. Still, the best way to be sure you get the real deal is to buy from the official brands & their online stores or authorized dealers.

Comment below what you think about these tips as well as your ways of spotting a fake!