Fans of the Swoosh know the brand can design a covetable shoe. What takes that feat to the next level: designing one that's built to swagger and perform — then be taken apart and recycled.
That was the remit for the Nike ISPA team. ISPA (Improvise; Scavenge; Protect; Adapt) is a Nike design philosophy that challenges creators to experiment, break molds and reimagine products. In this case, it helps move Nike closer to its circular vision — a closed-loop system that yields no waste — to help protect the planet and the future of sport.
This spring, the ISPA team is debuting two head-turning new footwear models that show the brand's innovative capabilities and foretell its future in circular design.  
The Intent
For more than 30 years, Nike teams have pursued design solutions in service of the athlete and the planet. They've unlocked new, lower-impact materials (see: Nike Grind, Nike Air) and created pinnacle performance footwear and iconic lifestyle silhouettes leveraging recycled content (see: Alphafly Next Nature, the 2022 Move to Zero collections). As the climate crisis has intensified for athletes around the world, Nike teams have shifted into a higher gear, embracing circular design principles as creative accelerants. These include the 10 principles outlined in the Nike 2019 Circular Design Guide, an open-source workbook to share learnings and insights with the larger design community and anyone interested in how design can help lessen impact on the planet.
This season, the ISPA team considered the circular design principle of "disassembly," or the ability to easily take a product apart to recycle its contents, one of the more challenging principles to implement in footwear design. A good shoe is flexible and durable. Traditionally, designers use glue and other bonding elements to achieve these aims, but that makes a shoe nearly impossible to disassemble and recycle. Recycling shoes usually requires shredding, an energy-intensive process that limits how the recycled materials can be used. Creating a shoe that can be taken apart would reduce the carbon footprint of the product and open up new possibilities for its life cycle.
The Innovations
The ISPA team tackled the disassembly challenge. "Designed in partnership with engineering, digital product creation and development, these shoes are completely informed by method of make — it really is a case of form following function," says Darryl Matthews, VP, Catalyst Footwear Product Design. "Our hope is that these ideas and aesthetics become normalized, accelerating our ability to imagine how shoes will continue to evolve in the future."

Nike ISPA Link

Nike ISPA Link Axis

Past Inspiration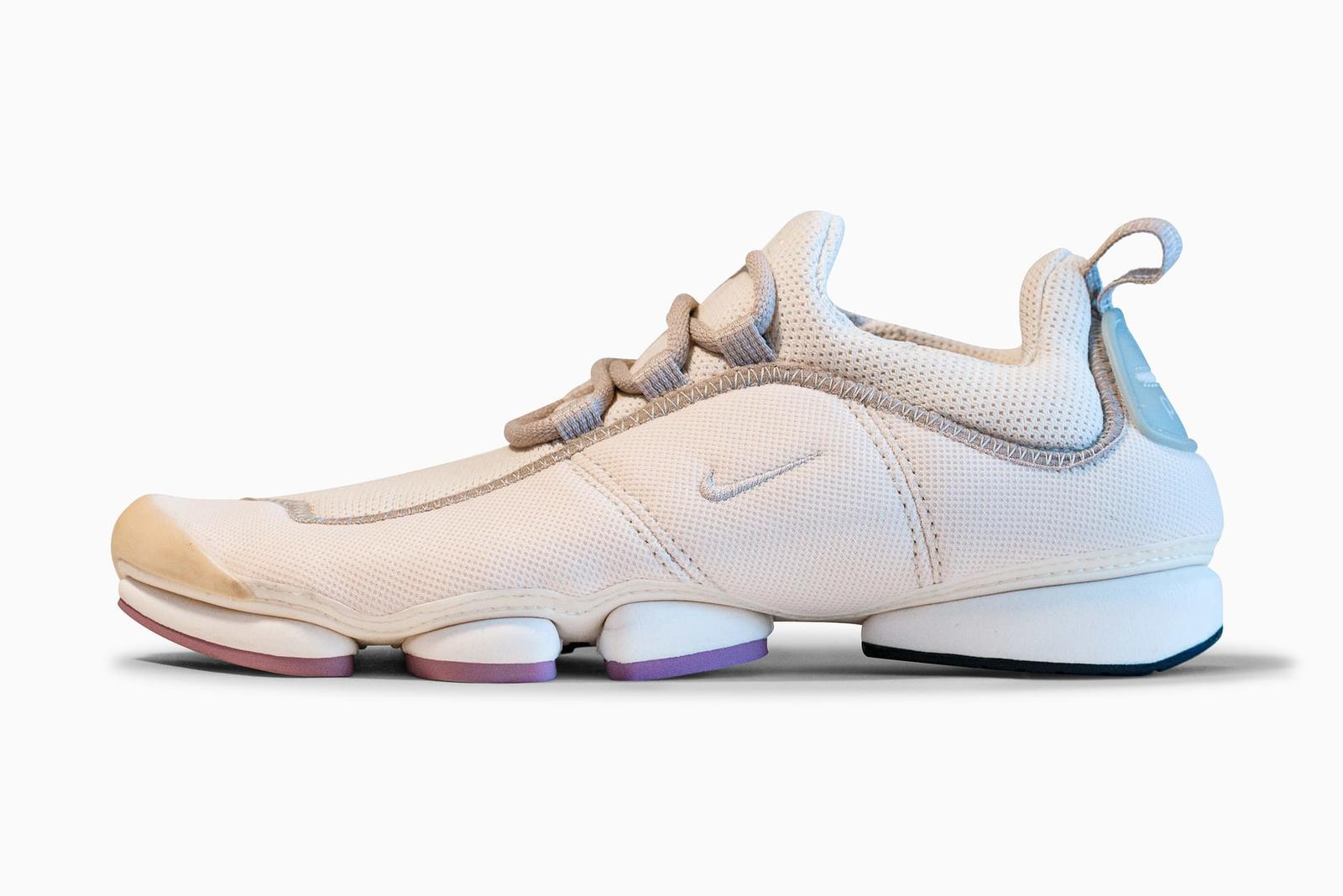 What's Next
For mold-breaking models like the Link and Link Axis to have full impact, the innovation must be scaled. That action is underway. A holistic look at Nike product lines and supply chains are already determining where new approaches can be implemented to reach a wider audience and to move closer to its sustainability goals for 2025 and beyond.
True scale also requires robust cross-industry collaboration to create the business models and infrastructure that make it possible to recycle products. To that end, Nike is building partnerships to grow its recycling capabilities, and it's investing in product take-back consumer programs across the world that will help grow its ability to repurpose end-of-life products.
As essential: By embracing radical new aesthetics like the Link and Link Axis, Nike is signaling the importance of circular systems for fighting climate change and inviting consumers and the design community to engage in a conversation about it.
To that end, Nike is proud to participate in "Plastic: Remaking Our World," an exhibition at Germany's Vitra Design Museum, one of the world's leading design institutions, from March 26 to September 4, 2022. The exhibit highlights the exploration of design and evolutionary journey behind the ISPA Link Axis, and will be a unique window into the brand's approach to innovative design with sustainable intent.
With the Link and Link Axis, Nike is further accelerating its move toward a circular, zero-carbon and zero-waste future. As Nike Chief Design Officer John Hoke puts it, "We have a responsibility to consider the complete design solution: how we source, make, use, return and ultimately reimagine product. The goal is to make matter matter more."