Reebok and LA-based brand PLEASURES announced their most recent collaboration comprising two unique interpretations of the Club C Legacy and Club C 85, available August 13.
For FW21, PLEASURES and Reebok further strengthened their long-term partnership with a dual drop featuring a unique take on the Club C Legacy and the iconic Club C 85. The fourth collaborative project between PLEASURES and Reebok was inspired by the higher-level concept of evolution and how it impacts both design and life itself.


"The Club C has set its place in history as a globally loved sneaker. This shoe has followed me throughout my life and holds a special place in my heart," said PLEASURES co-founder Alex James. "We wanted to reimagine two distinct versions of this classic icon to shine a light on the importance of growth and change."


PLEASURES x Reebok Club C Legacy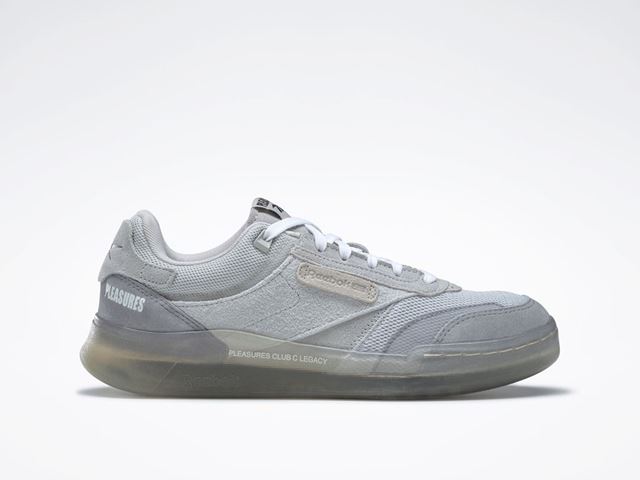 This shoe features a subtle, yet strong colorway of Pure Grey and Straw crafted out of mesh and suede. The silhouette also sports updated tooling and a translucent sole featuring PLEASURES branding, while Reebok's branding graces the heels and panels.
To promote this Club C Legacy, PLEASURES x Reebok executed on a co-branded campaign featuring videos and photos of a drone delivering the shoes in different settings (e.g., a park, the suburbs, the city, lakes, deserts, and more).


PLEASURES x Reebok Club C 85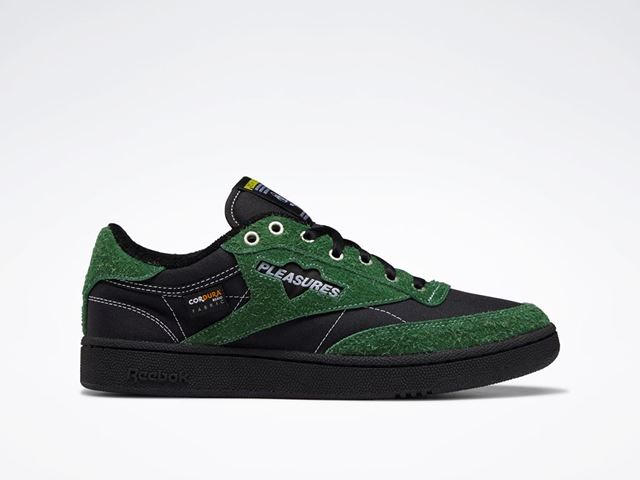 This hardcore version of the classic icon is dressed in fuzzy, pine green suede overlays with a black, waterproof CORDURA® base. By leveraging a mix of materials and fabrics, the brands gave this silhouette an elevated, durable edge suited for all kinds of outdoor elements.
PLEASURES' branding—a heart-shaped design—appears within the suede overlay while Reebok's classic logo is featured on the tongue of the shoe.
Both silhouettes also feature an image on the insole that was taken by PLEASURES graphic designer, Austin Hunkins, in Paris in 2020. 
Founded in 2015, PLEASURES is a global brand inspired by punk, street, and 1980s subculture aesthetics. Known for combining original design with bold graphics to create a contemporary expression of classic, timeless styles, the brand's designs often evoke strong feelings of nostalgia.
The PLEASURES x Reebok Club C Legacy and Club C 85 will both be available for purchase in unisex sizing on pleasuresnow.com on August 13 and available worldwide on Reebok.com on August 20.



Cover 📸 : Asphalt Gold