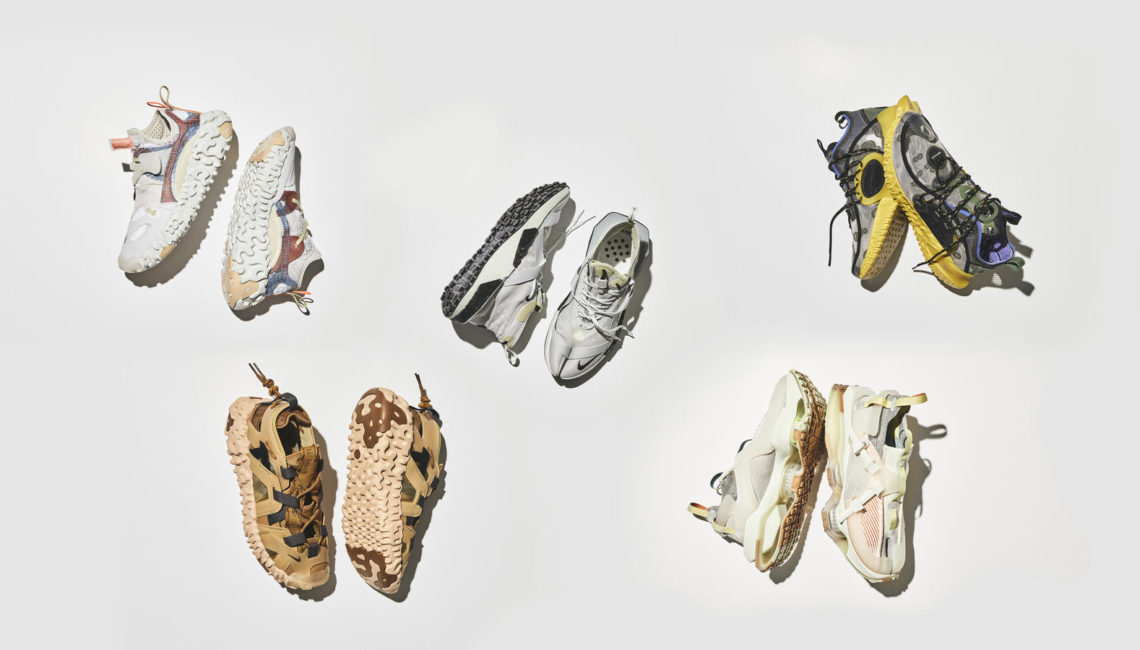 Since launching in November of 2018, Nike ISPA has steadfastly worked under its organizing philosophy: Improvise. Scavenge. Protect. Adapt.
The actions form a set of design principles manifested as a pinnacle experimental expression of Nike design across all categories, including the latest innovations and established creations. 
With this focus, ISPA also highlights a broader design initiative at Nike, Nike Design Exploration (NdE). Collections under the banner of NdE articulate integral elements of NIKE, Inc.'s design process. Within the collections, athlete data and digital design converge. The marriage of NIKE's mastery of the body in motion and virtuosic traditional crafts also informs creation. And reconception of NIKE, Inc.'s innovation platforms as experimental new silhouettes forms a universal objective.
For ISPA, this means engineering groundbreaking products capable of tackling the unique and shifting challenges of the human made environment. Driven by experimentation, ISPA solves everyday problems with sophisticated solutions by creating adaptive footwear and apparel that prioritizes performance and utility.
For fall and holiday 2020, Nike ISPA highlights NIKE, Inc. innovations like Nike React, Nike Air Zoom and Nike Dri-FIT.  The collection infuses bold new silhouettes with functional design, resulting in street-smart style that's fully equipped to conquer unique playing fields in new ways. 


The Nike ISPA Zoom Road Warrior
With an eye to those in constant motion, the Nike ISPA Road Warrior scavenges purposeful innovations from running, basketball, training and outdoor footwear.
The open floating heel borrows from early Nike Shox prototypes, but shifts from the boing boing effect of the pillars to incorporate double stack zoom pods and double under foot plates. In those elements, the shoe references the pioneering design of the two-hour-marathon-breaking Nike Air Zoom Alphafly Next% and the energy return of the Nike Air Zoom BB NXT.
The upper marries ideas from tough training shoes and outdoor pursuit designs to provide agility, containment and protection. When combined with the knit patch upper (which is super breathable), the overall package gives ultimate comfort and propulsion — whatever the day's undertaking.
The Nike ISPA Zoom Road Warrior releases globally July 10.


The Nike ISPA Overreact FK
This shoe confronts a consistent, everyday problem for designers: How to make shoes more comfortable. With the Nike ISPA Overreact, that problem is met with a sophisticated combination of solutions from NIKE, Inc.'s innovation toolbox. At the forefront is the shoe's namesake cushioning platform, Nike React technology, a proprietary foam that offers soft cushioning, energy return and durability in a single lightweight compound.
The Nike ISPA Overreact takes those characteristics to the extreme by doubling down on the geometries that maximize Nike React. As with the Nike React Element 87, pressure and density maps combined with foot strike data help make sense of where cushioning is most and least needed. With this information in mind, the Overreact is comprised of a series of interlocking internal geometries that gives it a unique comfort advantage. Further, both the sockliner and strobel were removed, meaning each step is taken on unadulterated Nike React foam.
The shoe's upper maximizes Nike's Flyknit production by employing a mix of excess yarns, similar to the Nike VaporMax 2 Random. The knit patterns themselves are in a sense reused, following on past footwear programs, and the color combinations are dictated by the available yarns. The upper is finished with an easy-on, easy-off closure system that typifies the general attitude of the design — a giant hug for the foot.
As a full package, the shoe also serves as an exemplary illustration of the "improvise, scavenge, protect and adapt" philosophy.
The Nike ISPA Overreact FK releases globally July 9.


The Nike ISPA Overreact FK Sandal
Sharing the tooling of the Nike ISPA Overreact, the Nike ISPA Overreact Sandal amplifies the former's sophisticated approach to extreme comfort with a stripped down, warm-weather-ready build.
Notably, the midsole and outsole carry a disproportionate tread pattern, devised as an ode to improvised traction systems and adapting the Overreact pattern to fresh aesthetic convention. The upper takes heavy influence from functional improvisation achieved when stripping down a design to its bare essentials. Visible and hidden layers provide structure and a sense of protection, while allowing free airflow and lightening the shoe's overall package.
The Nike ISPA Overreact FK Sandal releases globally July 31.


The Nike ISPA Flow 2020
If Nike's greatest pure sport innovations are driven by the edges of athletic potential — think Eluid Kipchoge's effort to break the two-hour marathon barrier — ISPA finds potential for lifestyle innovation from solving problems for extreme daily use. In summer heat, balancing stability and style with breathability is difficult. But by stripping down to the essentials, the ISPA Flow 2020 adapts to the unexpected.
The shoe is inspired by extreme sports athletes who take a DIY approach to maximizing their equipment. Colloquially known as "gram shavers," these athletes constantly trim down to the bare necessities. In the Flow, all-day footwear is brought to its most lightweight and breathable through a perforated outsole that allows internal intake of airflow. Think of it as walking on a subtle breeze.
Study of common heat maps of the human foot informed where hotspots are most likely to occur. Then, working with generative design engineers, the framework for the shoe's outsole and its open weave mono mesh was formed to bring ideas born in Nike's past into the future.
From digging into the Department of Nike Archives to experimenting with cutting-edge technology, the creation of the ISPA Flow is ISPA process at its nerdiest, in service of creating ISPA footwear at its coolest.
The Nike ISPA Flow 2020 releases globally August 13.


The Nike ISPA Drifter
A hybrid of Japanese traditional work boots and NIKE, Inc. innovation, the ISPA Drifter transforms the split-toe Tabi shoe into a lightweight, all-day performance vehicle for the built environment.
The split-toe upper sits on a lightweight supple foam compound that includes regrind Nike ZoomX foam — a key component of Nike's fastest running shoes. An external webbing detail creates a stable lockdown fit and a unique fastening system allows for cinching from both the front and center of the eyestay.
The Nike ISPA Drifter releases globally September 1.


Nike ISPA Apparel Fall 2020 Capsule
Like its footwear, Nike ISPA builds from iconic Nike designs and innovation platforms by improvising and adapting them for a new generation of city athletes.
The Fall 2020 ISPA Apparel Capsule highlights under-the-radar experiments from Nike's past and classic shorts, while granting ample attention to Nike's most advanced performance fabric, Nike Dri-FIT. 


With the Nike ISPA Inflate Jacket, an experimental design pays homage to the 2006 Nike Airvantage in a solution for shifting temperatures. The Nike ISPA Women's Shorts transform the classic Nike Tempo running short into a city-exploration essential. Built with a mix of heavy abrasion panels and stretch-woven fabrics, the ISPA Pant draws from a diverse range of sport subcultures to deliver the ultimate mix of work pant and track pant. Elements of BMX, motocross and skydiving apparel give the pant a subtle punk aesthetic — all while supplying the requisite pocketing and abrasion protection for a broad range of daily activities.
The Nike ISPA Bodysuit and Nike ISPA L/S Dri-FIT Top use the namesake material as base, and borrow from Nike's depth of research on body temperature and sweat mapping for a precise balance of ventilation where it's most required.
Learn More With ISPA Live
On July 6, an interactive digital community learning space, ISPA Live, will be accessible at www.ispa.live.