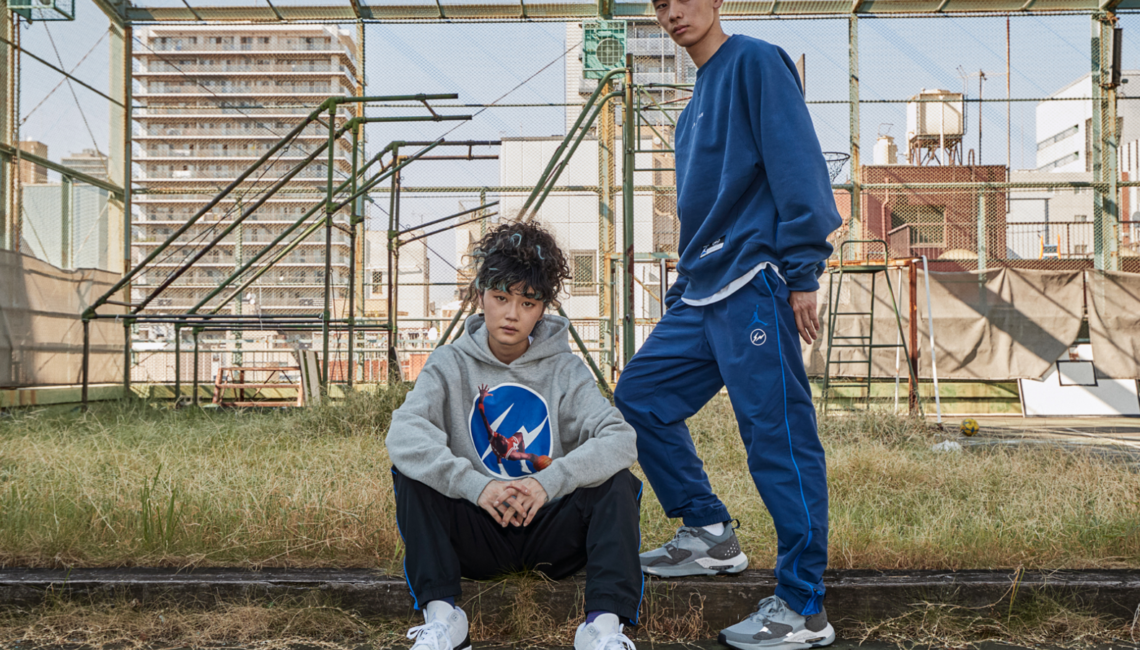 Hiroshi Fujiwara, the "Godfather of Harajuku" and founder of Fragment Design, tastefully combines decades of footwear innovation and streetwear style with his latest Jordan Brand collaboration.
Fujiwara highlights classic American gym wear — raglan fleece, T-shirts and nylon pants — in home (grey) and away (blue) colors. "I was looking at the vintage Jordan collections. I wanted to feel what the clothes looked like — the atmosphere and what it felt like to wear them then, including nylon tracksuits," he says.



Several sweatshirts are emblazoned with distinct typography, evocative of '80s standard-issue sportswear, while others transpose photos of Jordan in action. These images become iconography — a moment etched in imagination, future nostalgia in motion.
It's there that the collection's voice is clearly formed. It's all about honoring potent memories.  
Fujiwara's take on the Air Jordan III mirrors the understated approach to classic footwear that he's made his signature. With ode to the 2004 Orca pack, the III is presented in a simple black and white scheme with balanced branding. The heel counter showcases a bold Fragment logo read through a transparent Jumpman. Its set-up celebrates Fujiwara's love of the Jumpman logo, which first appeared on the Jordan III, and with the overlay of brand marks initiates a new aesthetic cue. 
This decision sits seamlessly within the Jordan Brand legacy, where technological and aesthetic innovation blends harmoniously. A natural through line is created by the collection's other two shoes, the Jordan XXXV and Jordan Cadence.


The Jordan III debuted visible technology in the Jordan line. With the Jordan XXXV (which will be officially unvelied later this fall), on-court innovation is advanced. Fujiwara dresses the latest Jordan Brand game shoe in classic sport colors: black, blue and white. The effect is a full circle from his original Jordan I and a bridge between the nostalgia-tinged apparel and future sport performance. One must ask: What history will be made in these?
"It's so different compared to older, vintage shoes. I like the innovations too," Fujiwara says of the Air Jordan XXXV. "Maybe these shoes will be a holy grail in 10 years, I don't know."


Presented with a neutral grey base, the Jordan Cadence reprises the Jordan III's heel Air unit. The style matches neatly with the P.E. mood of the apparel: a simple, everyday vibe with a modern twist. "This is also something new for Jordan, and I was really interested in doing this shoe," says Fujiwara. "Before this, we did an HTM — the Jordan Trunner NXT React. Since then, I've been interested in doing some of Jordan's running and lifestyle shoes." 



All three shoes include a discrete tooling code on the midsole, a common feature of Fragment Design collaborations, marking model and season.   
The Jordan Brand x Fragment collection releases globally September 17, except for the Air Jordan XXXV Fragment which launches October 28.