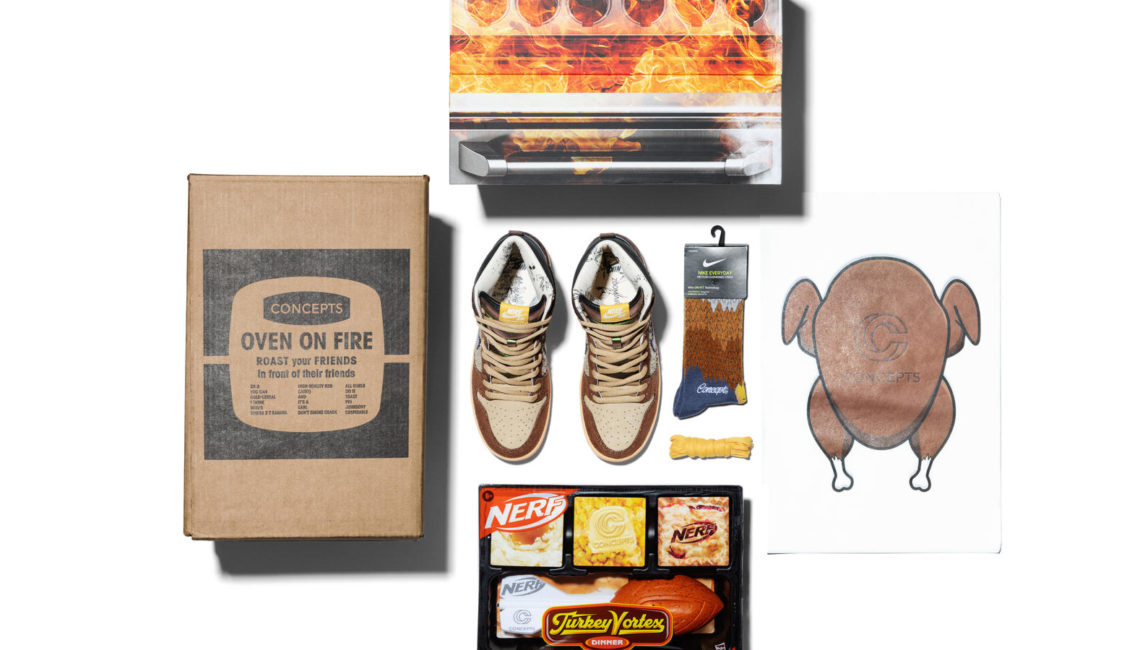 Cambridge-born, Boston-based Concepts has come a long way from its basement origins on Brattle Street. Founded in 1996, the store reached global consciousness in 2008 with the launch of its first Nike SB Dunk, the Lobster. The release introduced Concepts' New England humor and knack for audacious packaging to the sneaker world. Tongue-in-cheek Dunk designs followed — eye rolls at Pig's Flying, pokes at the notion of "Holy Grails" in sneakers and a trio of Ugly Sweaters. In 2020, Concepts' eternal camaraderie hits full tilt with the TurDUNKen.
 
"We've definitely never taken ourselves too seriously. We're well-versed in sport. We come from luxury," says Concepts Creative Director Deon Point. "The thing with us that always gets overlooked is our sense of humor. We love to have fun." 
Each shoe in the Concepts Dunk lineage has allowed the shop's crew to relay its humorous side. The inside jokes, made public, are revealed on just one canvas — the Dunk. This grants the shoe a special place in Concepts' history, and from the pageantry of the 2008 release to today, bringing a Dunk into the world has been reason for Concepts to flex creativity.

 
"I don't know if the Lobster would've hit the same way if we didn't put that extra effort in," says Point. "We were a tiny little shop in the middle of nowhere, regardless of our heritage, and though Concepts starting earlier than most stores, we were still kind of nestled away and it was like an afterthought amongst the heavy hitters."

Today, there's no doubting Concepts' foothold — thanks in part to a new Boston flagship location on Newbury Street — and the TurDUNKen carries on its strong tradition of over-the-top collaborative themes. 




The idea was formulated with an eye to the trifecta of food, football and friendship characterizing the holiday season. It has an origin story — the turducken, a Louisiana staple made nationally famous by football announcers — and it pulls through to serve as symbol of the community atmosphere driven by skate shops around the world. "We always have felt that a core element of skate shops is the family element," says Point.

Conceptually, the product comes to life via a Nike Dri-FIT chicken foot sock, stuffed inside a duck-inspired Dunk, completed by turkey wrapping paper. Of course, it wouldn't be a Concepts Dunk without wild packaging too — the TurDUNKen comes in an oven-inspired box complete with holiday leftovers (including a family-dinner-themed turkey leg Nerf vortex football).
With down-like quarter material and a laser-cut quarter replicating feathers, the design of the Dunk High (or, as the tongue label reads, "Duck High") draws from the coloring of the mighty Mallard. A custom toile print decorates the collar lining and sockliner, and this is reprised within an associated apparel collection: a fleece bomber jacket, T-shirt and beanie.
The Concepts x Nike SB Dunk High TurDUNKen launches November 14 at Concepts' Boston and New York flagship stores, and at cncpts.com. Pairs of the Duck SB High will release November 20 at select skate retailers and November 21 on SNKRS.